A day or two ago I was walking the grounds of a lovely retreat site in New York state with Tooth. You know Tooth don't you? She's one of the super smart mice in my Runt Farm children's book series. As we ambled along I told her stories from my childhood. Fond memories.
Then just around a bend in the path we spotted this little guy. I think his name is Larry. At least that's what it sounded like. He and Tooth had a bit of a chat. We watched as he munched a lovely purple flower. One moment it was there, then poof, down the hatch. I didn't exatly see his teeth, but they seemed to work quite well.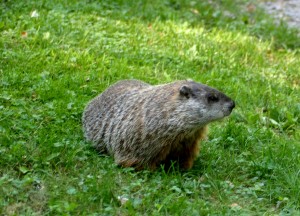 And that reminded me of my grandma's teeth. We used to go out to dinner now and then, and for such occasions Grandma would wear her false teeth. All the better to eat the food, you understand. But she didn't really like those teeth. I think they didn't fit well and her mouth would get tired of them before long. Eventually she would slip them out and hide them under her napkin. We were all so used to how she looked without them, her mouth a tad wrinkly and so often open to laugh out loud, that we didn't even notice.
After a while it was time for the kids, grandkids, aunts and uncles to go to their respective homes. Grandpa would guide Grandma out to the car and they would zoom off to their little house on the corner. Sometime later we, or someone in the family, would get a call. Grandma had left her teeth under a napkin . . . again. One of us would drive back to the dinner house and alert the staff. Usually we were lucky and grandma's teeth would be located in the trash and we would ferry them back home to sit in the glass jar by her bed. No matter how many times we suggested she simply keep them in place, they would find that favorite hiding place.
Do you have teeth? I'm sure you do, and you probably have them with you all the time. Good for you. They sure do come in handy, don't they? Teeth are cool. Tooth thinks so too.